DRIVING THE MINORITY AND MAJORITY INTERRELIGIOUS RELATIONS IN BALI
Keywords:
Harmonization, Social Relations, Multireligious, Islam and Hindu, Bali
Abstract
This study aims to determine the various factors that shape the harmonious relationship between Muslims and Hindus in Bali. The locus of this research is Jimbaran Village, South Kuta District, Badung Regency, Bali Province. This study uses a qualitative research methodology with a narrative descriptive analysis approach and is included in the type of literature study research. The results of this study indicate that the pattern of social relations between Muslims and Hindus in Bali is not only formed based on the understanding of their respective religious teachings, but it can also be shaped by customs in Balinese society and shaped by several factors that influence it. Five factors shape the harmonization of social relations between Muslims and Hindus in Bali, including the conflicts between Muslims and Hindus in Bali, the competition between Muslims and Hindus in Bali, and adjustments made by Muslims to Hindus in Bali, tolerance and cooperation among Muslims in Bali.
Downloads
Download data is not yet available.
References
Aditama, Yudha, A. A. Bagus Wirawan, and A. A. Rai Wahyuni. "Eksistensi Desa Muslim Kampung Kusamba Tahun 1990-2015." Humanis: Journal of Arts and Humanities 26, no. 1 (2022): 147-156. DOI: 10.24843/JH.2022.v26.i01.p15.
Arif, Firman Muhammad. Maqashid as Living Law dalam Dinamika Kerukunan Umat Beragama di Tana Luwu. Yogyakarta: Deepublish, 2018.
Armini, GA. "Toleransi Masyarakat Multi Etnis dan Multiagama dalam Or-ganisasi Subak di Bali," Patanjala 5, no. 1 (2017): 38-52. DOI: 10.30959/patanjala.v5i1.152.
Atiq, Muhammad. "Criticism of How to Praise Hafiz Indonesia's Competitors: Contextualization of Hadith about the Prohibition of Praising." Alif Lam: Journal of Islamic Studies and Humanities 3, no. 1 (2022): 245–54. DOI: 10.51700/aliflam.v3i1.294.
Basyir, Kunawi. "Pola Kerukunan Antar-umat Islam dan Hindu di Denpasar Bali." Islamica: Jurnal Studi Keislaman 8, no. 1 (2013): 1–27.
Diana, Nina. "Islam Masuk ke Bali dan Dampaknya terhadap Perkembangan Islam di Bali." IAIN Syekh Nurjati Cirebon, 2016.
Fahham, A. Muchaddam. "Dinamika Hubungan Antarumat Beragama: Pola Hubungan Muslim dan Hindu di Bali." Jurnal Aspirasi 9, no. 1 (2018): 65-84. DOI: 10.22212/aspirasi.v7i1.1084.
Harahap, Suheri. "Konflik Etnis dan Agama di Indonesia." Jurnal Ilmiah Sosiologi Agama (JISA) 1, no. 2 (2018): 1-19. DOI: 10.30829/jisa.v1i2.5096
Jannah, Siti Raudhatul. "Kegalauan Identitas: Dilema Hubungan Muslimin dan Hindu di Bali." Ulumuna 16, no. 2 (2012): 443-64. DOI: 10. 20414/ ujis.v16i2.186.
Kunandar, Viva Budy. "Islam Agama Terbesar Kedua di Bali." Katadata, September 13, 2021. https://databoks.katadata.co.id/datapublish/2021/09/13/islam-agama-terbesar-kedua-di-bali.
Larasati, Kinanti Dewi. "Isu-isu Psiko-sosial Minoritas Muslim di Nusadua Pasca Ledakan Bom Bali," 2019.
Mutmainah, Dian. "Kompetisi antar Kelompok Kepentingan dalam Kasus Elian Gonzales." Universitas Gadjah Mada, 2001.
Pamungkas, Cahyo. "Toleransi Beragama dalam Praktik Sosial: Studi Kasus Hubungan Mayoritas dan Minoritas Agama di Kabupaten Buleleng." Epistemé: Jurnal Pengembangan Ilmu Keislaman 9, no. 2 (2014): 285-316. DOI: 10.21274/epis.2014.9.2.285-316.
Putra, Darma I Nyoman. "Puja Mandala Nusa Dua: Monumen Bhinneka Tunggal Ika Bali untuk Indonesia." In Prosiding Seminar Nasional Kajian Mutakhir Bahasa, Sastra, dan Budaya Daerah untuk Membangun Kebhineka-tunggalikaan Negara Kesatuan Republik Indonesia. Surakarta: Program Studi Sastra Daerah Fakultas Ilmu Budaya Universitas Sebelas Maret, 25-26, 2017.
Rosyad, Rifki, M. F. Mubarok, M. Taufiq Rahman, and Yeni Huriani. Toleransi Beragama dan Harmonisasi Sosial. Bandung: Lekkas, 2021.
Saihu, Made. Merawat Pluralisme Merawat Indonesia: Potret Pendidikan Pluralisme Agama di Jembrana-Bali. Yogyakarta: Deepublish, 2019.
Setiyanti, Sri Wiranti. "Membangun Kerja Sama Tim (Kelompok)." Jurnal Stie Semarang 4, no. 3 (2012): 59–65. https://jurnal3.stiesemarang.ac.id/index.php/jurnal/article/view/161.
Bagian Tata Usaha. "Lomba Busana Adat Kerja, Wujud Nyata Bentuk Toleransi Beragama," 2020.
Wahab, Abdul Jamil. Harmoni di Negeri Seribu Agama. Elex Media Komputindo, 2015.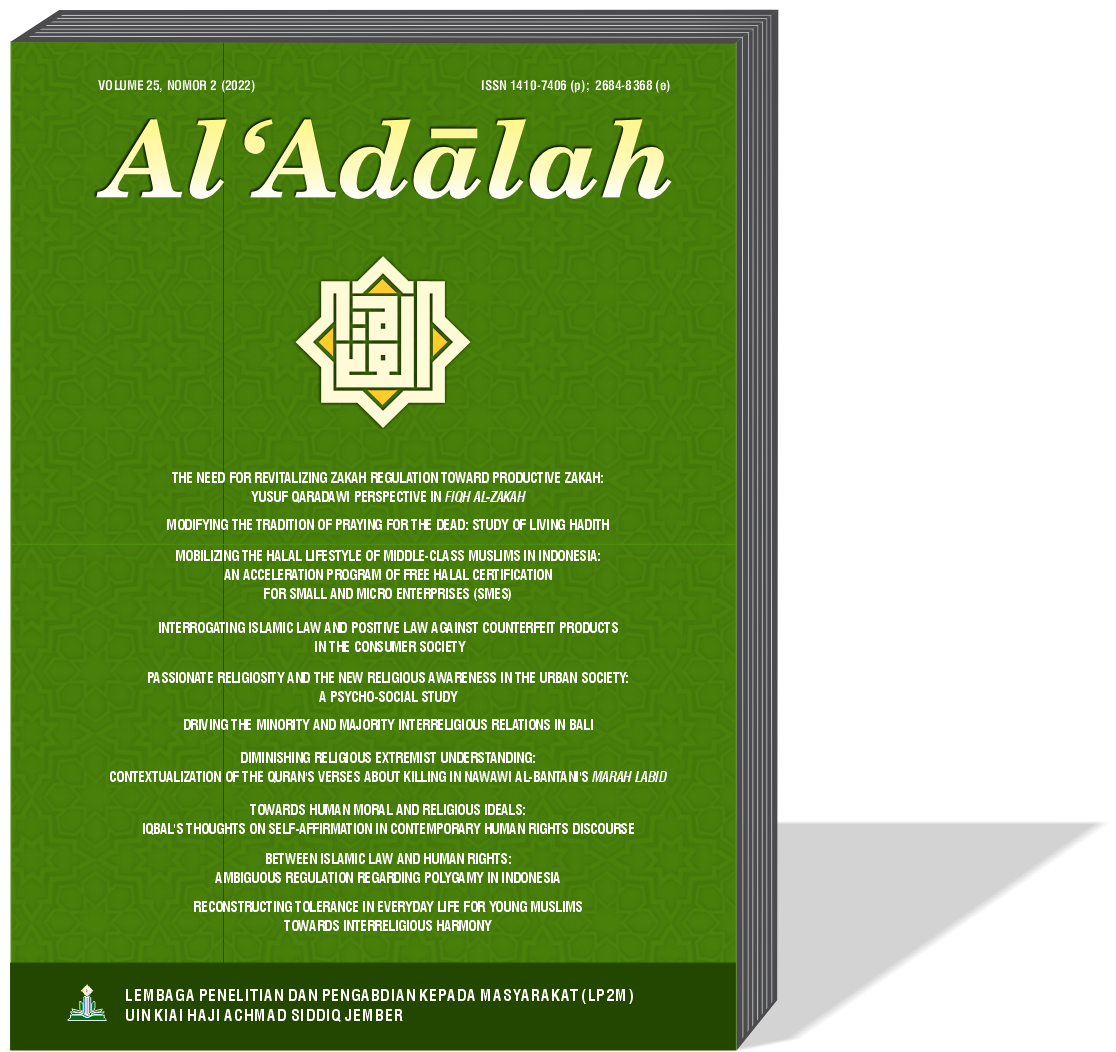 Downloads
How to Cite
Nurhidayati , T., & Ula, M. B. . (2022). DRIVING THE MINORITY AND MAJORITY INTERRELIGIOUS RELATIONS IN BALI. Al'Adalah, 25(2), 207-225. https://doi.org/10.35719/aladalah.v25i2.292
License
Copyright (c) 2022 Titin Nurhidayati, Muhammad Bahrul Ula
This work is licensed under a Creative Commons Attribution-NonCommercial 4.0 International License.
This work is licensed under a Attribution-NonCommercial 4.0 International (CC BY-NC 4.0).