MOBILIZING THE HALAL LIFESTYLE OF MIDDLE-CLASS MUSLIMS IN INDONESIA
AN ACCELERATION PROGRAM OF FREE HALAL CERTIFICATION FOR SMALL AND MICRO ENTERPRISES (SMES)
Keywords:
Free Halal Certification, Halal Lifestyle, Middle Class Muslims, Small and Micro-sized Enterprises (SMEs)
Abstract
The halal industry is now proliferating along with the halal lifestyle, which is very prominent in the Muslim middle class in Indonesia. The consequence is considered not only to have encouraged the development of the Islamic economy but also to intensify the halal lifestyle. This article discusses the government's acceleration of halal certification by accelerating the process of halal certification through the Free Halal Certification Program (Sehati) for Small and Micro Enterprises (SMEs). The program, especially food products, has accelerated the community's halal lifestyle, especially for middle-class Muslims in Indonesia. In doing so, the government contributes to mobilizing middle-class Muslim lifestyles in contemporary Indonesian culture.
Downloads
Download data is not yet available.
References
Adinugraha, Hendri Hermawan, Mila Sartika, and Ahmad Hasan Asy'ari Ulama'i. "Halal Lifestyle di Indonesia." An-Nisbah: Jurnal Ekonomi Syariah 5, No. 02 (April 2019): 57-81. DOI: 10.21274/an.2019.6.1.57-81.
Aslikhah. "Potensi Ekonomi Syariah dengan Tren Halal Lifestyle di Indonesia dalam Perspektif State the Global Islamic Economy Report." Ekosiana: Jurnal Ekonomi Syariah 8, no.1 (2021): 33-44. DOI: 10.47077/ekosiana.v8i1.171.
Aswad, Muhammad. "Halal Industries: Markets and the Rising of Middle-Class Muslims in Contemporary Java." Episteme: Jurnal Pengembangan Ilmu Keislaman 17, no. 1 (June 2022): 1-25. DOI: 10.21274/epis. 2022.17.1.1-25.
Badan Penyelenggara Jaminan Produk Halal. "Sertifikasi Halal untuk UMK. Accessed November 20, 2022. https://sehati.halal.go.id.
"BPJPH: Program Sehati Jadi Strategi Tingkatkan Jumlah Produk Halal." Antara News. August 30, 2022. https://www.antaranews.com/berita/3088173/bpjph-program-Sehati-jadi-strategi-tingkatkan-jumlah-produk-halal.
Charity, May Lim. "Halal Products Guarantee in Indonesia." Jurnal Legislasi Indonesia 14, no. 1 (March 2017): 99-108. DOI: 10.54629/jli.v14i1.77.
Government Regulation Number 39 of 2021 Concerning Implementation of Halal Product Assurance. Acces-
sed October 12, 2022. https://halal. kemenperin.go.id/pp-nomor-39-tahun-2021-tentang-penyelengaraan-bidang-jaminan-produk-halal.
Indonesia Sharia Economic Festival (ISEF). "SGIE Report 2022: Makanan Halal Indonesia Peringkat Dua Dunia," State of the Global Islamic Economy (SGIE) Report 2022. Accessed October 20, 2022. https:// isef.co.id/id/artikel/sgie-report-2022-makanan-halal-indonesia-peringkat-dua-dunia.
Kasanah, Nur & Muhammad Husain As Sajjad." Potensi, Regulasi, dan Problematika Sertifikasi Halal Gra-tis." Journal of Economics, Law, and Humanities 1, no. 2 (2022): 28-41. DOI: 10.21154/jelhum.v1i2.1196.
Khoeron, Moh (ed.). "Sertifikasi Halal Gratis Dibuka, BPJPH Siapkan 25000 Kuota untuk UMK." Indonesian Ministry of Religion, March 19, 2022. https://www.kemenag.go.id/read/sertifikasi-halal-gratis-dibuka-bpjph-siapkan-25-000-kuota-untuk-umk-y5jkk.
Kusnandar, Viva Budy. "Sebanyak 115 Juta Masyarakat Indonesia Menuju Kelas Menengah," Katadata, September 14, 2022. https://databoks.katadata.co.id/datapublish/2022/ 09/14/sebanyak-115-juta-masyarakat-indonesia-menuju-kelas-menengah.
Kusnandar, Viva Budy. "Sebanyak 86,93% Penduduk Indonesia Beragama Islam pada 31 Desember 2021." Katadata, February 12, 2022. https:// databoks.katadata.co.id/datapublish/2022/02/12/sebanyak-8693-penduduk-indonesia-beragama-islam-pada-31-desember-2021.
Law of the Republic of Indonesia Number 33 of 2014 concerning Guarantees for Halal Products.
Mahdi, M Ivan. "Berapa Jumlah UMKM di Indonesia?" Dataindonesia.id, January 19, 2022. Accessed October 12, 2022. https://dataindonesia.id/sektor-riil/detail/berapa-jumlah-umkm-di-indonesia.
Rizaty, Monavia Ayu. "Skor Indeks Maka-nan Halal Indonesia Peringkat 4 di Dunia." Katadata, September 6, 2021. https://databoks.katadata.co.id/datapublish/2021/09/06/skor-indeks-makanan-halal-indonesia-peringkat-4-di-dunia.
Rachim, Hadiyanto Abdul, and Meilanny Budiarti Santoso. "Mainstreaming the Halal Lifestyle: Between Opportunities and Challenges of Social Protection Capacity in Global Trends." AdBispreneur: Jurnal Pemikiran dan Penelitian Administrasi Bisnis dan Kewirausahaan 6, no. 2 (2021): 151-161. DOI: 10.24198/adbispreneur.v6i2.33085.
Rahmadani, Gema. "Halal dan Haram dalam Islam." Jurnal Ilmiah Penegakan Hukum 2, No. 1 (June 2015): 20-23. DOI: 10.31289/jiph.v2i1.1860.
Rimayanti. "Industri Halal dan Muslim Kelas Menengah: Peluang dan Tantangan." Jurnal Ekonomi Pembangunan dan Pariwisata 2, no. 2 (October 2022): 64-74. DOI: 10.52300/jepp.v2i2.5473.
Sukardani, Puspita Sari, Vinda Maya Setianingrum, and Aryo Bayu Wibisono. "Halal Lifestyle: Current Trends in Indonesian Market." Proceedings of the 1st International Conference on Social Sciences/ICSS (2018): 334-339. DOI: 10.2991/icss-18.2018.68.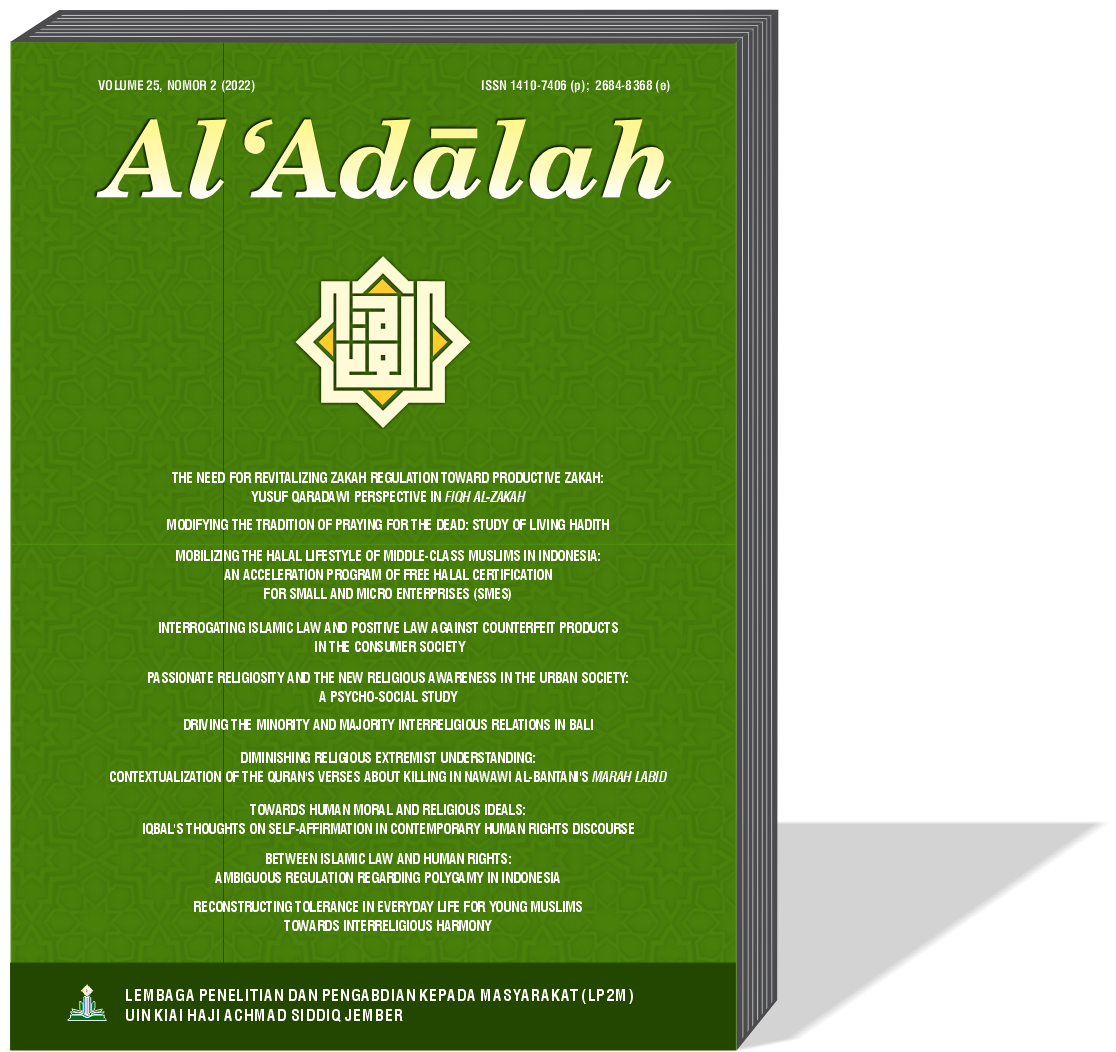 Downloads
How to Cite
Putri Kamilatul Rohmi. (2022). MOBILIZING THE HALAL LIFESTYLE OF MIDDLE-CLASS MUSLIMS IN INDONESIA: AN ACCELERATION PROGRAM OF FREE HALAL CERTIFICATION FOR SMALL AND MICRO ENTERPRISES (SMES). Al'Adalah, 25(2), 155-166. https://doi.org/10.35719/aladalah.v25i2.307
License
Copyright (c) 2022 Putri Kamilatul Rohmi
This work is licensed under a Creative Commons Attribution-NonCommercial 4.0 International License.
This work is licensed under a Attribution-NonCommercial 4.0 International (CC BY-NC 4.0).