TOWARDS HUMAN MORAL AND RELIGIOUS IDEALS
IQBAL'S THOUGHTS ON SELF-AFFIRMATION IN CONTEMPORARY HUMAN RIGHTS DISCOURSE
Keywords:
Human Rights, Muhammad Iqbal's Thought , Self-Affirmation, Discourse, Religion
Abstract
Human Rights are considered God's gift given to humans from birth. However, discrimination, harassment, intimidation, repression, and other human rights violations still occur in social life. The article discusses the relevance of the contemporary Muslim thinker Muhammad Iqbal to progressive humanitarian ideas, especially in contemporary human rights discourses. This interdisciplinary research comprehensively analyzes Iqbal's thoughts within the framework that Islamic values and human rights principles do not contradict or reinforce one another. Iqbal is known as a humanist, religious and universal intellectual. In the religious context, Iqbal's thoughts refer to Islamic teachings, emphasizing the self-affirmation of human existence, that human nature as a divine being and a righteous believer should uphold human rights in social life.
Downloads
Download data is not yet available.
References
Anjum, Zafar H. "Whose Iqbal-Ours or Theirs?" Iqbal Review: Journal of the Iqbal Academy 44, no. 2 (April 2003): 152-159. http://iqbalcyberlibrary.net/files/009//IRE-APR-2003.pdf.
Asplund, Knut D., Suparman Marzuki, Eko Riyadi (ed.). Hukum Hak Asasi Manusia. Yogyakarta: PUSHAM UII, 2008.
Azzam, Abdul Wahab. Filsafat dan Puisi Iqbal (Iqbal: Siratuh wal Falsafatuh wa Syi'ruhani), translated by Ahmad Rofi' Usman. Jakarta: Pustaka, 1985.
Danusiri. Epistemologi dalam Tasawuf Iqbal. Yogyakarta: Pustaka Pelajar, 1996.
Durrani, Saeed A. "Iqbal: His Life and Work." Iqbal Review: Journal of the Iqbal Academy 31, no. 2 (October 1990): 89-118. http://iqbalcyberlibrary.net/en/IRE-OCT-1990.html#pdfdownload.
Hadi W.M., Abdul. Kumpulan Sajak Iqbal: Pesan kepada Bangsa-bangsa Timur. Bandung: Mizan, 1985.
Hardiman, F. Budi. Hak-Hak Asasi Manusia: Polemik Agama dan Kebudayaan. Yogyakarta: Kanisius, 2011.
Hassan, Riffat. An Iqbal Primer: An Introduction to Iqbal's Philosophy. Lahore: Iqbal Academy, 2005.
Izzah, Lathifatul, "Wacana Hak Asasi Manusia dalam Filsafat Pendidikan Islam dan Barat." Al'Adalah 24, no. 1 (2021). DOI: 10.35719/aladalah.v24i1.5.
Jaya, Belardo Mega & Muhammad Rusli Arafat. "Universalism Vs. Cultural Relativism dan Implementasinya dalam Hak Kebebasan Beragama di Indonesia." Pena Justisia: Media Komunikasi dan Kajian Hukum 17, no. 1 (June 2017): 56-65. http://jurnal.unikal.ac.id/index.php/hk/article/view/568.
Krapf, Thomas. "HAM di Dunia Islam: Genderang Perang Penistaan Agama." DW.com, February 27, 2020. https://www.dw.com/id/ham-di-dunia-islam-genderang-perang-penistaan-agama/a-52551336.
Lidinillah, Mustofa Anshori. Agama dan Aktualisasi Diri dalam Perspektif Filsafat Muhammad Iqbal, Yogyakarta: Penerbitan Filsafat UGM, 2005.
Maarif, Ahmad Syafii. "Prolog: Muhammad Iqbal dan Suara Kemanusiaan dari Timur," in Rekonstruksi Pemikiran Agama dalam Islam (The Reconstruction Religious Thought in Islam), edited by Muhidin M. Dahlan. Yogyakarta: Jalasutra, 2002.
Masykur, Mohammad Rizqillah. "Pembaharuan Islam di Asia Selatan Pemikiran Muhammad Iqbal." Jurnal al-Makrifat 3, No 1, April 2018.
May, L. S. "Iqbal, The Humanist." Iqbal Review: Journal of the Iqbal Academy 19, no. 1 (January 1978): 24-34. http://iqbalcyberlibrary.net/en/IRE-JAN-1978.html#pdfdownload.
Meyerovitsh, Eva. "Pengantar Alih Bahasa Perancis." In Kitab Keabadian, translated by Mohammad Sadikin. Jakarta: Pustaka Panjimas, 1987.
Mustansir, Mir. "Iqbal Vision of a New World." Iqbal Review: Journal of the Iqbal Academy 41, no. 2 (April 2000): 42-44. http://iqbalcyberlibrary.net/en/IRE-APR-2000.html#pdfdownload.
Saiyidain, K.G. "Progressive Trends in Iqbal Thought," in Iqbal as a Thinker, 2nd Edition. Lahore: Muhammad Ashraf, 1953.
Sommerville, Donal. The Complete Illustrated History of World War II: An Authoritative Account of the Deadliest Conflict in Human History with Analysis of Decisive Encounters and Landmark Engagements. London: Lorenz Book, 2008.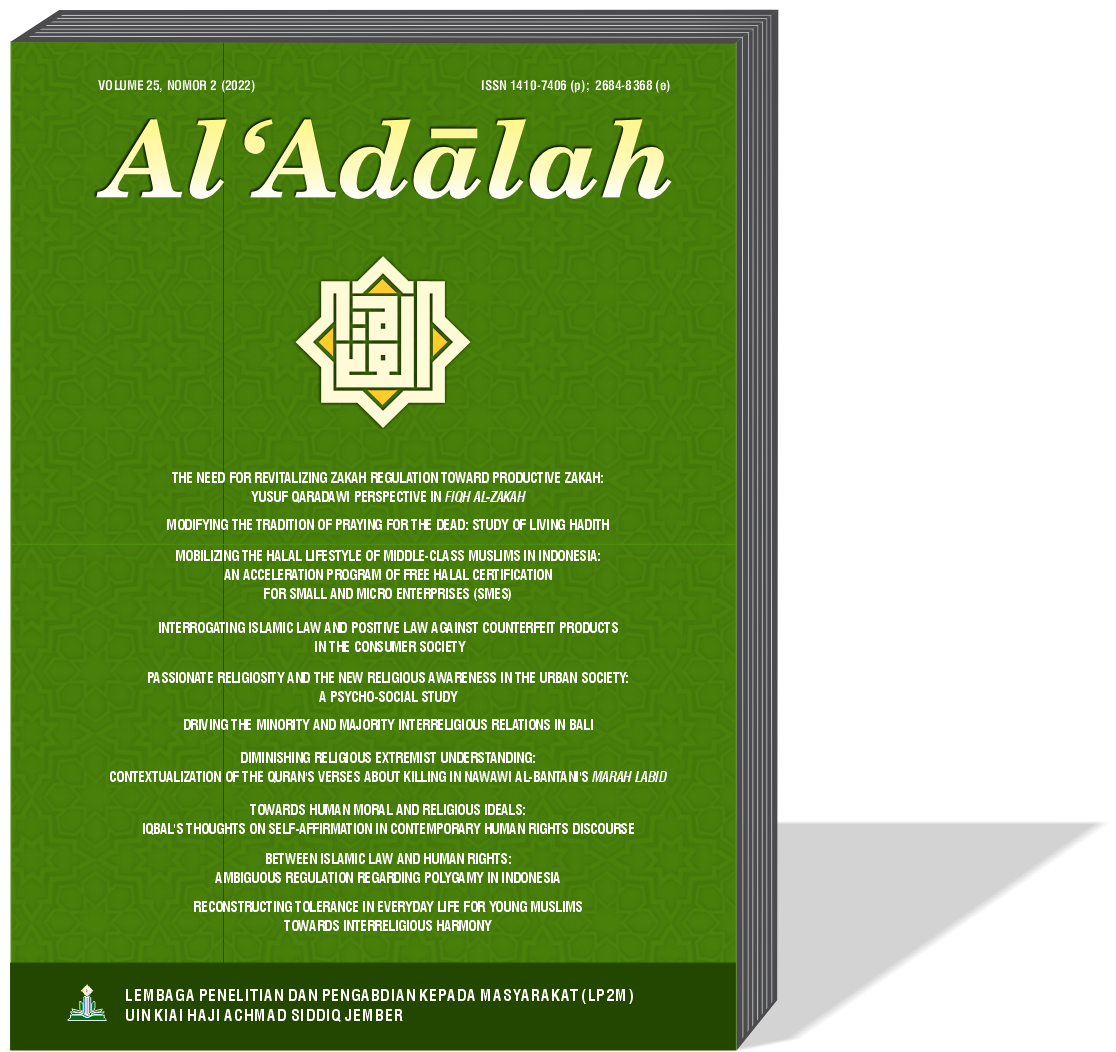 Downloads
How to Cite
Anshori Lidinillah, M. (2022). TOWARDS HUMAN MORAL AND RELIGIOUS IDEALS: IQBAL'S THOUGHTS ON SELF-AFFIRMATION IN CONTEMPORARY HUMAN RIGHTS DISCOURSE . Al'Adalah, 25(2), 247-260. https://doi.org/10.35719/aladalah.v25i2.296
License
Copyright (c) 2022 Mustofa Anshori Lidinillah
This work is licensed under a Creative Commons Attribution-NonCommercial 4.0 International License.
This work is licensed under a Attribution-NonCommercial 4.0 International (CC BY-NC 4.0).